Well, the weekend is over and I am back at the bookshop. It seems like I was gone for so long. There is so much to do right now at the bookshop it is slightly overwhelming. Sandy and I are trying to get together some events for the spring and early summer. There are also books to make sure are on order and returns to figure out how to do. We haven't done a return yet on this new system, so that might take a while to learn how exactly we are supposed to do it. Sandy is teaching me new things that he has figured out on the system almost daily.
The advisory council meeting down in Massachusetts went really well. What I did down there was to come up with ideas for the NEIBA educational workshop day that will be in May. I was on the education committee and we also brainstormed some ideas for education that would take place at the NEIBA trade show that will take place in September. These educational workshops are vital for booksellers to keep on top of what is going on in the world of book selling. The American Booksellers Association will put on some educational programming at each of the upcoming NEIBA events, but NEIBA wanted to plan some that would be directly tailored to our needs as booksellers in this area.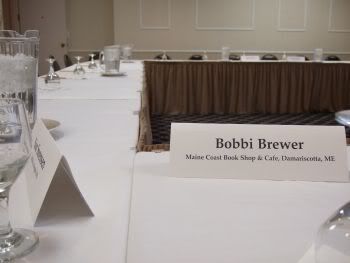 It was quite nice to have an official name card like that. It is always great to be able to talk to different booksellers and at the advisory council there were also some sales representatives that were there. One of the sales reps is coming to the store in a week or two, but unfortunately it is on my day off. She was on the same committee that I was on and was so nice. It constantly amazes me how nice people that are involved in book selling are. Perhaps by now I should just expect it?