During one of the lunches we had the opportunity to listen to the founder of Stoneyfield Farms (the yogurt company!) talk about how to become a more "green"/ecologically friendly business.
It was really enlightening to hear a business person, who needs to make a profit, be so concerned about the effects that their business has on the environment. I'm quite sure that he said they were now a carbon neutral business, which is one of those things that not many people, let alone a business, can achieve. I want to start having some re-usable bags that we can have for customers to buy and then bring back when they buy books again.
I made sure to take a lot of notes. We had these little notebooks that had the schedule of events in them and a map of the hotel. The hotel was huge. I needed that map on multiple occasions. When I would walk back to my room there wouldn't be anyone in the hallway, which started to creep me out. I kept thinking of the Shining when the little girls were at the end of the hallway standing together. Of course the hotel had this lovely carpet to take my mind off it: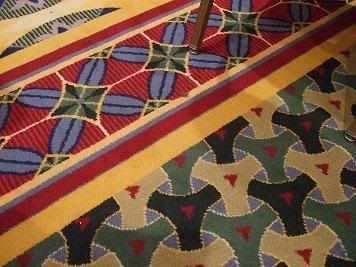 It was one of the big topics of conversation the entire weekend. That picture does it no justice. It is amazing what some decorators think is beautiful.
In the hotel the ABA had a room that was full of advance copies and some books that had just come out. I always feel like a kid in a candy store when I see piles of free books. It was also how nice everyone was. I went to this conference by myself and I never felt alone since I was talking to so many booksellers the entire weekend. It's amazing how much you can learn just from talking to other people that work in the same profession. It makes me want to travel across the United States visiting book stores the entire way. I'm going to have more Winter Institute related posts, but I just need to digest everything. I still think it's last week and have just caught up on my sleep. Traveling confuses me far too much.