This coming Thursday (3/06) at 9:30 am at the Skidompha Library (the big brick building next to ours), we will be supplying the books to the Chats with Champions event. The author for this month will be Nancy Harmon Jenkins, known for her cookbooks dealing with the Mediterranean lifestyle. She is currently promoting her newest cookbook, published in June of 2007, Cucina del Sole.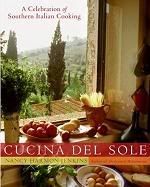 The cover of the cookbook is so inviting that it makes you want to go on a gastronomic tour of Italy.
So please, come out with your friends and enjoy this event.