Now that it is winter, I would think it would be a good time to perfect your cooking skills. I'm a cookbook addict. I buy them and then look at the pictures once, but then never actually cook anything. I've decided to make it my goal to start learning how to cook. I did make a delicious ginger and winter vegetable side dish that I've been eating for the past week. Unfortunately, my parents don't always embrace my veggie loving lifestyle. They did eventually try my concoction, three nights after I made it. The recipe came right out of Vegan with a Vengeance. Many of the cookbooks that I've bought in the past couple of months have been vegan cookbooks. The only problem that I have run into, novice chef that I am, is that many of the ingredients that are required for recipes are things that are not in my kitchen cupboards. Most of the things I have no idea what they even are. I actually had to ask a man that worked at Hannaford if what I had in my hands was a parsnip. I had never seen it in it's original form, but I knew that it was supposed to look like a carrot. I just wanted to double check before I bought something that I might not be able to use in my recipe. The package wasn't even labeled!
I'm very tempted to buy that How to Cook Everything Vegetarian book. The only drawback, for me, is that it is huge! I like things to be of a moderate size, so that I can easily flip the pages and then maybe set it down, open, on the counter. We do have a fairly impressive vegetarian cookbook section. I've gone to larger bookshops and seen horrible sections that are "dedicated" to vegetarians. They would only have one or two books, one of those being a book dedicated to salads. I don't know where people first got the idea that vegetarians only like to eat salad, but I know I like to eat something with a little more substance once in a while.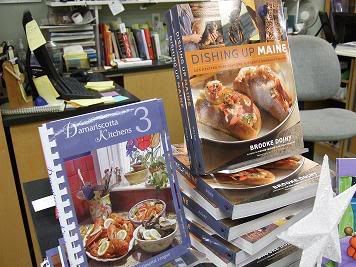 Not to get people too concerned that all we have are vegetarian books, these two books are our top selling cookbooks at the moment. We do have a large selection of celebrity chef cookbooks and then the basic cookbooks (Fannie Farmer,etc) that everyone needs in their kitchens. The Dishing Up Maine is one of Frank's favorite cookbooks. He has, alone, sold most of the 209 copies that we have sold. That is a lot of cookbooks. The Damariscotta Kitchens cookbook is put out by the Miles Memorial Hospital League. If you happen to look at the chili recipe put in by Neil Genthner Jr., fire chief of Damariscotta, you will see my brother and my father in the picture of the Damariscotta fire department! I like to point out the books that my family members are in to the customers. Sometimes they are interested, but most of the time I think they just humor me. I just checked how many copies of the Damariscotta Kitchens that we have sold, and so far, we have sold 278. Frank is going to have to start pushing Dishing Up Maine even more in order to catch up!