I'm going to go ahead and claim that the Energy Expo this weekend was a success. We had a lot of people come to our booth and chat to us about how great the bookshop is. They were impressed with the selection of books on sustainability that we had. Friday was sort of slow business wise at the booth, but Saturday picked up with the addition of two authors.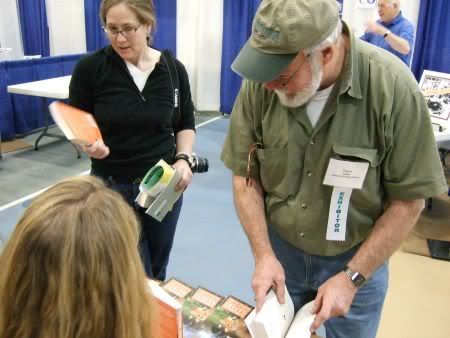 Bridget Besaw didn't manage to make it back on Saturday, but we did sell two copies of her book. Hannah Holmes is quite an interesting lady and she inspires me, due only to the trivial fact that we both went to the same college. If she can be doing what she loves to do, then so can I. I love books on science writing and it was quite interesting talking to someone who writes them.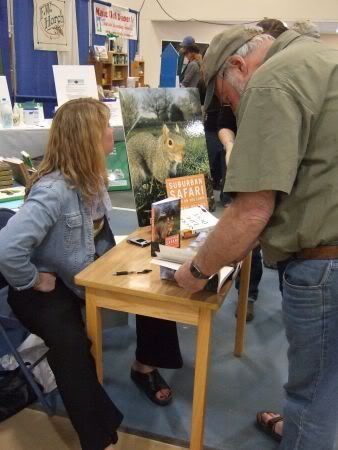 Trudy Chambers Price was a joy as always. I really do miss working with her, but every time that I see her now is so exciting. We sold eight copies of her book and seven of Hannah's.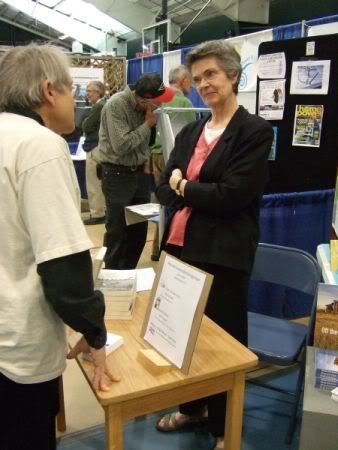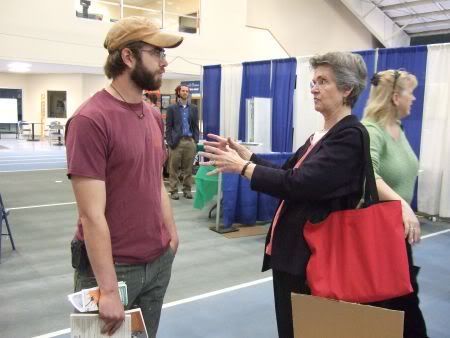 This is a picture of Trudy speaking to my best guy friend Joel. Joel bought a copy of "The Cows are Out" for one of his friends who is just getting into dairy farming.
If you didn't go to the Midcoast Sustainable Energy Expo, it's worth going to next year. I went up to the guy who was selling electric cars and asked him how well they drove in the snow. They unfortunately only go 25 miles an hour, but he said that next summer they will be coming out with a model that will go 80. He also said that there were no complaints about driving in the snow, but I don't know if I believe him on that one. There was also a booth that was selling local organic food. I never made it over there, due to low funds at the time, but everything looked really tasty.