Was a fantastic success again. It's funny how much I enjoy hosting it. I really like seeing how the local high school students interact with each other trying to answer the questions. The majority of them are high spirited and have just a good time doing it. I keep saying a certain group is my favorite group, but at this point it seems I have four of them.
One of my favorite groups. Always ready to play with a good sense of humor.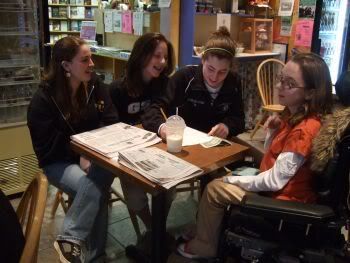 It was great to see so many girls this time at trivia night. Last time it was predominately a male event, but now there are women edging into the game.
Picture of me in between questions.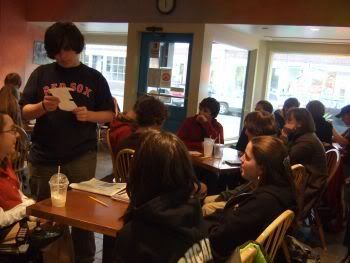 I think he's comparing answers? This is definitely after everyone had turned in their answer sheets. Turning in the sheets is done so that nobody can change an answer while we go over them.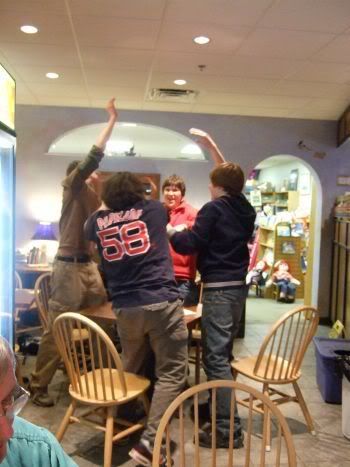 A high five was warranted for every single correct answer they had.
And finally, the winners!!!
The Epic Fail Guy team (part of the fun is naming your team something ridiculous), edged out another team by correctly answering our tie breaking question. I think they had 23 questions correct out of the forty that I asked and then it came down to two tie breaking questions. Both teams answered the first one correctly and then the Epic Fail Guy team answered the second one correctly. The tie breaking questions were both centered on art history. The pot was a massive forty dollars this week. The next trivia night will be on April 11th, to keep the continuity of having it on the second Friday of the month.