Even though I didn't technically have to be at the store for early bird, I gave Neila a ride to work due to the fact that I was going to go shopping and I felt bad for her parents getting up that early and driving her in. So I thankfully went into the store to warm up while I waited for Stars to open. I missed all the craziness in the bookshop, but Barnaby was kind enough to take some photos.
Lisa and Ann were ready to take on the Early Bird crowd!
I know that is the Hardy Boat's table on the left and I can't remember who that other table is unfortunately. There were a lot of tables out in front of the store! I know that the Rotary was out there selling nuts as well.
It's amazing how busy it can be that early in the morning.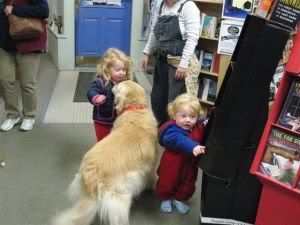 These are two of my favorite kids and Twister who decided to come out for the sale.
cute babies love the Early Bird sale!